Easy Rider Pack
EASY RIDER PACK
Sometimes the adventure is yours alone. Whether you're just a beginner or an expert, a good companion will help you get the most out of your trip. Let this ultimate Biker Pack be your companion to ride with and to explore the picturesque terrain Australia has to offer.
The Easy Rider Pack includes: 
Australia Motorcycle Atlas + Top 200 Rides (RRP $45)
Australia Road & Terrain Map (RRP $12.95)
Purchase the Biker Pack for $50 and save $7.95. Also includes FREE shipping!  
AUSTRALIA MOTORCYCLE ATLAS + TOP 200 RIDES
The Australia Motorcycle Atlas features Australia-wide city, state and regional mapping. Packaged in a protective plastic sleeve, the Australia Motorcycle Atlas is split into two books, with one containing a Hema Road Atlas and the other containing 200 Top Rides.
AUSTRALIA ROAD & TERRAIN MAP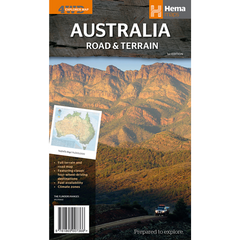 A road and terrain map of Australia that is colored to reflect the country's climate zones and features major road networks, Outback fuel, distances and major national parks. On the reverse is a photographic guide to Australia's most iconic four-wheel driving destinations, including the Kimberley, Cape York, the Top End, Fraser Island, Corner Country, High Country Victoria, the Flinders Ranges, the Red Centre, South West Western Australia and the Pilbara.